Japanese brand time! Majolica Majorca is a drugstore brand by Shiseido. This has been a favorite brand of mine for about 6 years now. Every product is detailed and gorgeous, they have a great selection of colors and the quality is amazing. Today I will be reviewing a few of their Customized Eyeshadows that I have. This line consists of individual shadows which you can put into an empty refillable compact (sold separately.) Unfortunately like most Japanese brands, they don't name their colors, they just number them. Here's a shot from their website: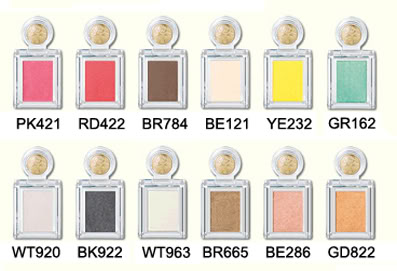 Just look at that ad-so glamourous!
The compact looks like this:
The colors I have are as follows (no primer.: SV830, BR665, BL724, SV821, RD361. Click to enlarge.
SV830 - intense silver foil.
BR665 - shimmery bronze.
BL724 -pure perfection. It is a turquoise-blue with green/gold duochrome shimmer. It's like the color of a mermaid's tail.
SV821- metallic mauve.
RD361- shimmery red-pink.
Look how that silver shines! Gorgeous.
All are super pigmented and apply like butter. If you buy Japanese eyeshadow, buy this. For a drugstore brand, the pigmentation and application is unbelievable, and the packaging is beautiful and detailed. Pure love.