If you are searching for the right face shimmer powder, your search is over! I don't know if they sell makeup in the US yet, but in Japan Mujirushi makes an awesome line of makeup at good prices. I especially like their shimmery face powder in honey beige. It gives you a light, healthy glow without making you look like a disco ball, and doesn't cake on. It costs about $11.
They also make a squirrel hair brush that's PERFECT for applying this powder. It's big so it covers your cheeks in one light sweep (and one touch of this powder is all you need per cheek) and made of squirrel hair so it's super soft, like heaven on your cheeks! It has a wooden handle. It costs about $13.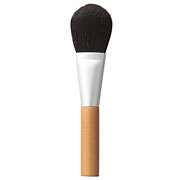 If you can't get this in muji back at home, take to the internet- this powder is worth seeking out!